News
Subscribe to our RSS News Feed

Export British Sustainable Manufacturing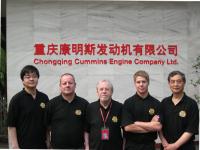 FIT-Infrared (EU) Ltd. based in Darlington, County Durham are pleased to announce the recent completion of a FIT gas catalytic infrared curing oven and FIT spray booth for Cummins Engines (China) Factory Ltd.

Following the successful installation and commissioning of three FIT Catalytic infrared curing ovens at the Cummins engine plant in Daventry (UK), with the impressive resulting increase in productivity and significant reduction in energy usage FIT Infrared (EU) Ltd. were requested to design and install a FIT Catalytic oven and FIT spray booth at the Cummins China engine manufacturing facility in Chongqing.
FIT-Infrared completed two preliminary site visits together with their Chinese sales team which established the feasibility of the project. FIT-Infrared (EU) Ltd. were eventually awarded the "Turn-Key" project which was completed to the very high standard expected by the client and within both the time and cost constraints of the original budgets.

The FIT Catalytic oven and FIT spray booth were produced in the FIT-Infrared Ltd. Darlington manufacturing facility. The equipment was pre-assembled and tested before being dismantled and shipped direct to the Cummins engine plant in Chongqing China for installation.

Following on from further preliminary trips to explore other potential business opportunities it was decided to set up an International sales office in Nanjing to develop the Chinese market. Interest in the FIT Catalytic curing and drying systems has been very encouraging and the local sales engineers are being kept extremely busy demonstrating this "new" technology to potential customers mainly in the heavy engineering sector, i.e. pipelines, valves, chassis, engine blocks, etc.

The FIT catalytic systems offer a significant technological leap forward in paint drying and curing techniques and the Cummins Engineering Division should be applauded for adopting this environmentally friendly technology and applying it to their production process.

As a result of the success of these projects and the co-operation of the clients, FIT-Infrared Ltd. are extremely confident that in the very near future substantial orders for FIT Catalytic Ovens and FIT Spray booths will be received from a major international fork lift truck manufacturer and also a major manufacturer of earth moving equipment in Asia who following live trials at site have 'Pre-Approved' the FIT Catalytic technology for all future paint
line installations.

The FIT Catalytic units are currently on test curing powder coatings at a major Chinese gas cylinder manufacturer (powder coating) and a major International manufacturer of steel wheels for tractors and trucks.