FIT's Technology
FIT Infrared Catalytic systems are...
Fast, efficient, cost effective and environmentally friendly
Are you looking for an efficient, cost effective and environmentally friendly and ultra safe drying system for your industrial spray shops and paint drying ovens?
FIT Infrared has extensive knowledge in this area and is ideally placed to show you how this breakthrough technology can be put to everyday use at a price that makes sense to any business.
FIT Infrared is a UK based, cutting edge Company that is a world-leader in the supply and installation of catalytic technology.
Catalytic Technology
Catalytic heaters are fuelled by natural gas or propane and use catalytic technology, rather than using a flame. Fuel is combusted by means of an exothermic reaction between the gas and oxygen.
The temperatures involved in catalytic heating are much lower than in flame combustion, therefore the heaters present no risk of igniting explosive vapours from solvent based products. This makes the system ideal for curing water and solvent based paints, glues, lacquers and powders.
Ideal For Curing Paints, Glues And Lacquers
This revolutionary technology means that painted items, such as engines and automotive body-parts can be heated directly which provides far greater energy transfer efficiency. Most organic materials readily absorb the long-wave (far) infrared energy that is produced, giving a better finish in less time and at a lower cost.
Savings on time, energy and cost of up to 80% have been achieved when compared to traditional convection or short-wave (near) electric infrared oven systems.
FIT Infrared's faster processing times enable considerable savings to be made in the size of the processing plant, releasing valuable floor space which can then be utilised for other production activities.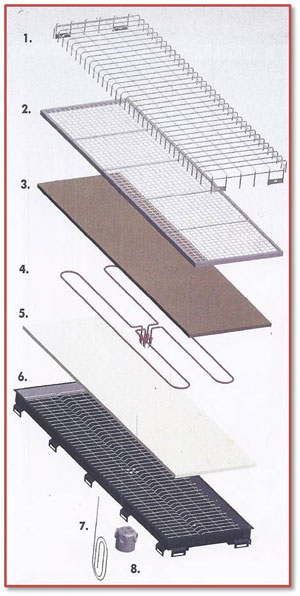 Protection grid (ATEX)
Frame with wire mesh
Catalytic pad
Electrical elements
Dispersion pad
Bezel with gas diffuser
Thermocouple
Protection box (ATEX)