Case Studies
Case Study One
Cummins Engines
Background
Cummins engines ltd approached FIT Infrared Ltd to work together to address a number of challenges relating to their engine painting process.
Through continuous business success and increasing worldwide sales, Cummins engines ltd identified a bottle neck within their business being the engine painting facility.
Cummins Engines ltd flilow a Six Sigma methodliogy and through this, combined with world class manufacturing facilities have become the world leader in engine manufacture, producing engines to the highest possible standards of quality. Cummins Engines ltd continually strive to improve processes with standards set of 100% right first time whilst achieving total customer satisfaction in all aspects of their business.
It is imperative for Cummins Engines ltd to continuously achieve the high standards that they must work only with suppliers who adopt the same high standards of professionalism and customer focus.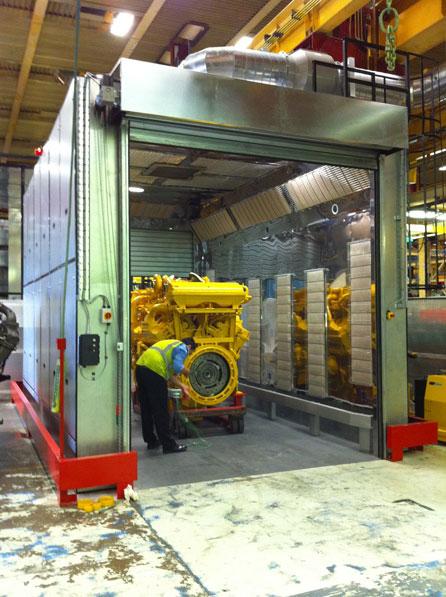 Analyse
An on site curing trial was carried out from which a cure time of 20 minutes was identified.
An investigation of the process identified a requirement for three off ovens (one per spray- booth) which would provide a smooth process from paint to cure without delays within the coating process.
A project plan was identified to ensure zero risk to production, quality and health and safety.
Following consultation with the customer the oven design was agreed to ensure all varying engine sizes could be accommodated in each oven.
Trials carried out on identified heat susceptible parts to ensure no damage would be caused during the curing cycle.
Improve
FIT Infrared ltd. manufactured the ovens to the agreed design, and installed them based on the agreed project timing plan. A full project plan was drafted and a pre-project risk assessment carried out, following which all risk assessments and method statements were produced and signed off by the customer.
Daily project meeting were held with the customer to discuss progress and sign off key stages.
Control
Following installation, the ovens were commissioned and various engine sizes cured to provide the ideal curing cycle. Training was carried out for maintenance and operators.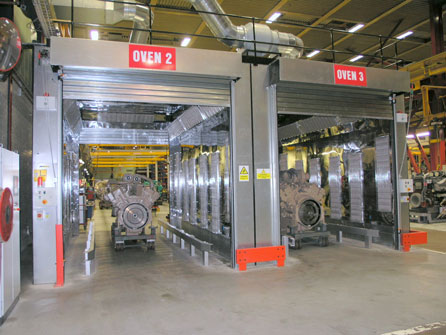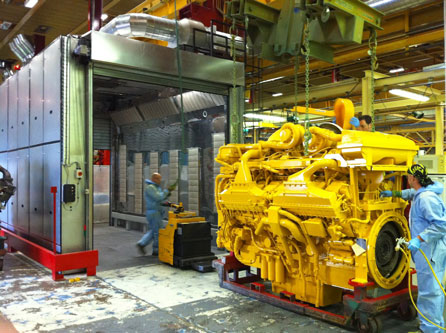 Define
The customer identified a requirement to relieve a bottle neck within its business which was limiting overall production throughput of engines and business growth. The bottle neck was identified as the engine painting and curing process, the capacity was very limited. In addition the process utilised three spray booths but only one oven which created challenges to the process flow.
Measure
A process flow investigation was carried out in conjunction with the customer to identify and agree the limitations and challenges.
Main concerns and objectives identified:
A single oven supporting three spray-booths caused disruption to the process flow as painted engines would need to wait whilst the oven was in use, thus causing delays in the paint application process.
Throughput capacity was extremely limited creating a major bottleneck within the business
High energy cost and Co2 per engine identified
Targets Agreed
Increase capacity throughput by excess of 100%
Reduce energy cost per engine from by 50%
Reduce Co2 per engine by 50%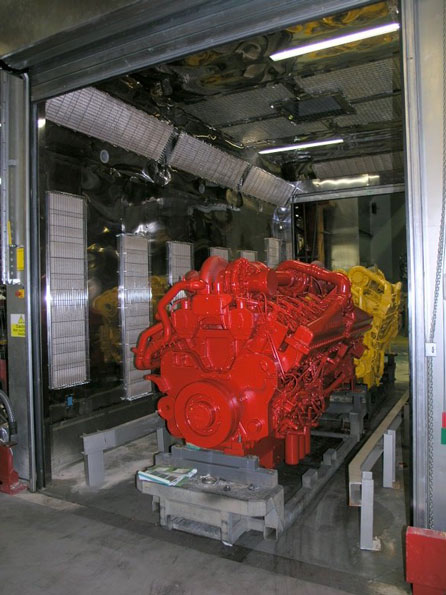 All commissioning data was compiled within the technical file to ensure any variation or changes to the process over time would be easily identified and addressed.
FIT Infrared ltd, carry out a bi-annual service on all three ovens to ensure continuous running to optimum levels is consistently achieved.
All running data is continually collated within the PLC to provide a continuous history of performance, this data is analysed routinely to identify trends and following a continuous improvement methodology identify process improvements.
Post Installation Measurements
| | |
| --- | --- |
| Annual reduction in Carbon and Co2 | 98% |
| Energy cost saving per engine | 74% |
| Capacity increase | 340% |
We apologise that we cannot provide specific data relating to this project, following a courteous request from Cummins Engines Ltd.